---
NOTICE:
Paper & Twine is going on a short break, but will be back fresh & renewed
- with fabulous *new* products - soon!
See you then!
---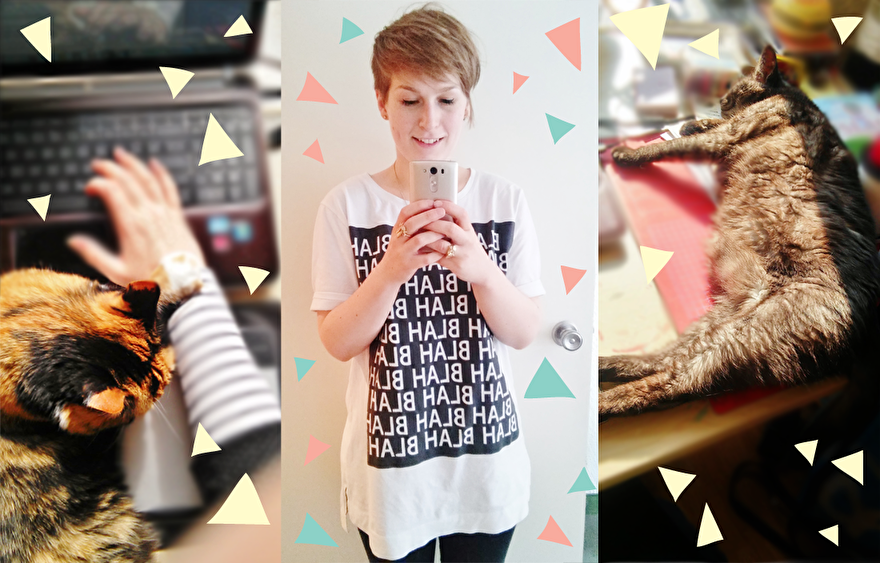 That's me in the middle! Accompanied by Minty (left) & Wolfje (right), my helpful assistants.
---
Laura Bultman, born 1988, half Irish & half Dutch, Graphic Design graduate, lives in the Hague with the best boyfriend ever and two cute cats that shed hair everywhere, but also give loads of cuddles, so that makes up for it.
---
The mastermind behind Paper & Twine is, me, Laura Bultman! I graduated in Graphic Design in 2012 from the Royal Academy of Art in the Hague. Since that time I'd been working for myself (making various hand painted products) and working to pay the bills (at a job I enjoyed very much!). During the course of 2015 I decided to change this way of working and earning money and started brainstorming. What could I do that would incorporate everything that I love? While I was thinking about this, I came across a problem of my own: it was Christmas and I couldn't find the right ribbon to match the beautiful wrapping paper I'd bought. That was the start of Paper & Twine.
An annoyance of mine turned into an idea. That idea turned into a plan and that plan turned into Paper & Twine: a shop that sells design and exclusive gift & party supplies!
I've hand picked all of these items myself, ensuring you get the best products from each of my suppliers. There are a few things I keep in mind when selecting products for the Paper & Twine shop: they have to be special, (near) exclusive (within the Netherlands) and, when possible, match with other products. I also try and keep the environment in mind, which means I don't sell balloons, try to keep plastic to a minimum, encourage recycling and try to get paper products that are also environmentally friendly.
But at the core of it all, Paper & Twine is about one thing and one thing only: making people happy!
I hope you enjoy looking around the webshop and that you can find something special for the party you're organizing or the gift you're giving. Enjoy!

SHIPPING & DELIVERY
THE NETHERLANDS
Flatbox: € 3,95
Parcel: € 6,95
BELGIUM
Parcel € 12,95
Shipping between 1 - 2 days (on workdays).
See FAQ for more information.